Book Selections, 2019-2020
We meet the second Monday of each month (unless noted) through June 2020 at 12:30 in the TBE Library.
Monday, October 14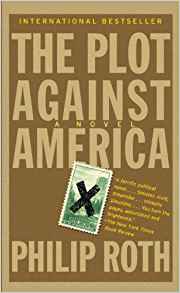 Philip Roth, Plot Against America. 
Never more relevant than now, this national bestseller will challenge all who believe that "it can't happen here."
 
In an extraordinary feat of narrative invention, Philip Roth imagines an alternate history where Franklin D. Roosevelt loses the 1940 presidential election to heroic aviator and rabid isolationist Charles A. Lindbergh. Shortly thereafter, Lindbergh negotiates a cordial "understanding" with Adolf Hitler, while the new government embarks on a program of folksy anti-Semitism.
 
For one boy growing up in Newark, Lindbergh's election is the first in a series of ruptures that threaten to destroy his small, safe corner of America–and with it, his mother, his father, and his older brother.
Monday, November 11
          Chaim Potak, Book of Light. 
Monday, December 9
          Anne Fortier, Juliet. 
Monday, January 13
          Naomi Eve, Henna House.
Monday, February 10
          Lisa See, Shanghai Girls.
Monday, March 9
          Daphne du Maurier, Jamaica Inn.  
Monday, April 13
James Carroll, The Cloister.
Monday, May 11
          John Bacon, The Halifax Explosion.  Leva Lessure will lead discussion?
Monday, June 13
          Alice Hoffman, The Dovekeepers. 
Future possible selections: If you have any of these and can recommend them, please let us know.
Kate Mosse, Sepulchre, 2007. (author of Labyrinth).
B.A. Shapiro, The Muralist,2015. She also wrote, The Art Forger.