Book Selections, 2019-2020
We meet the second Monday of each month (unless noted) through June 2020 at 12:30 in the TBE Library.
Monday, Dec 9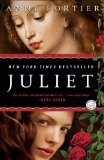 Anne Fortier, Juliet         
Juliet, an ambitious, utterly engaging historical novel on the scale of The Thirteenth Tale and The Birth of Venus, follows a young woman who discovers that her family's origins reach all the way back to literature's greatest star-crossed lovers.
Monday, January 13
          Naomi Eve, Henna House.
Monday, February 10
          Lisa See, Shanghai Girls.
Monday, March 9
          Daphne du Maurier, Jamaica Inn.  
Monday, April 13
James Carroll, The Cloister.
Monday, May 11
          John Bacon, The Halifax Explosion.  Leva Lessure will lead discussion?
Monday, June 13
          Alice Hoffman, The Dovekeepers. 
Future possible selections: If you have any of these and can recommend them, please let us know.
Kate Mosse, Sepulchre, 2007. (author of Labyrinth).
B.A. Shapiro, The Muralist,2015. She also wrote, The Art Forger.