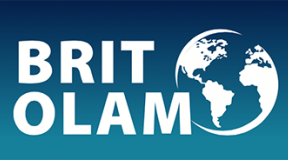 9/21/2019
This past weekend, Rabbi Dov Pesner from the Religious Action Center was in Ann Arbor, speaking to us about the RAC, its history, its Jewish roots, and Brit Olam. Brit Olam translates to 'covenant with our world' and reminds us that "Study alone is not enough, our tradition demands action."
The Women of Temple Beth Emeth have signed on to the Brit Olam for Reproductive Freedom supported by WRJ and the RAC.
Since 1935, the Women of Reform Judaism, has supported the right to make decisions about one's own reproductive life according to one's own beliefs. Yet we know that focusing on reproductive health and rights isn't enough when countless systemic barriers exist that prevent people from being able to afford, access, or make informed decisions about their reproductive life.
Life is sacred in Judaism. Banning potentially life-saving medical procedures and interfering with a doctor's decision-making runs contrary to the Jewish commandment to protect life. Restricting abortion, contraceptives, and other family planning methods to only the select who can afford or access them runs contrary to the Jewish commandment to protect life. In other words, the legal right to have an abortion doesn't mean much if people cannot access it due to their economic status, geographic location, race, age, gender, or other identity
factors.
Why is this important to us in Michigan?
Currently, abortion is legal in the United States because of the landmark Supreme Court decision, Roe v. Wade. However, given the current political climate and the likely potential for the balance of the Supreme Court to shift drastically away from reproductive rights, Roe v. Wade is at risk to be overturned or gutted.
According to Pew Research Center, a majority of Michiganders want abortion to be legal in all or most cases. But since Roe was decided, the Michigan legislature has enacted over a dozen new abortion restrictions, pushing access for this vital health care procedure out of reach for more and more women.
Michigan is one of 9 states with dangerously outdated laws on the books that criminalize abortion. Without protections provided by Roe in place, Michigan's 1931 abortion law would criminalize doctors who perform abortions, making them guilty of a felony. Doctors could be prosecuted and punished with up to two years in jail for performing a safe, common health care procedure. Anti-abortion politicians want to enforce this old, unconstitutional law and leaving it on the books threatens the rights and access to abortion for all women in Michigan.
It's critical that Michigan reverse course and start protecting abortion rights and access, so that regardless of the Supreme Court's future rulings on abortion, women in Michigan can be assured of their ability to access safe, affordable, abortion care in their community without shame, pressure, or fear of punishment.
Despite strong public support for reproductive freedom, Michigan legislators have joined those efforts. At least a dozen anti-choice bills have been introduced in the state House and Senate this session. Although Gov. Gretchen Whitmer has promised vetoes, other strategies are underway that don't require the governor's signature to become law.
Two anti-abortion groups recently received approval from the state Board of Canvassers to begin gathering signatures to put separate measures on the ballot. One would criminalize abortions performed after cardiac activity is detected in a fetus or embryo, which can happen as early as six weeks into a pregnancy. A second petition drive seeks to ban a safe second-trimester procedure known as the dilation and evacuation method.
If either effort qualifies for the ballot, legislators would have the option of passing them directly into law, circumventing both the will of voters and a likely veto from the governor.
Restrictions on Abortion in Michigan, as of September 1, 2019:
• A patient must receive state-directed counseling that includes information designed to discourage the patient from having an abortion, and then wait 24 hours before the procedure is provided.
• Private insurance policies cover abortion only in cases of life endangerment, unless individuals purchase an optional rider at an additional cost.
• Health plans offered in the state's health exchange under the Affordable Care Act can only cover abortion in cases of life endangerment, unless individuals purchase an optional rider at an additional cost.
• Abortion is covered in insurance policies for public employees only in cases of life endangerment, unless individuals purchase an optional rider at an additional cost.
• The parent of a minor must consent before an abortion is provided.
• Public funding is available for abortion only in cases of life endangerment, rape or incest.
• An abortion may be performed at or after viability only if the patient's life is endangered.
• The state requires abortion clinics to meet unnecessary and burdensome standards related to their physical plant, equipment and staffing.
Now that we have signed up as a cohort, what can we do?
WTBE's Facebook page – https://www.facebook.com/tbesisterhood/- is going to provide as many updates on reproductive issues as possible. We will be tracking Michigan issues through Planned Parenthood, and letting you know about local Planned Parenthood meetings; NARAL Pro-Choice America, and hopefully host an action hour in the near future; follow up with ACLU, The Center for Reproductive Rights, Guttmacher Institute and more to provide relevant, up-to-date information on what is happening in Michigan.
Then what can we do?
I am looking for a partner or partners in this endeavor. I will not be in Michigan or available full time this year. And there is much we can do and impact as a woman's "faith based" group. We must hold Lansing legislators accountable. Health, not politics, should guide important medical decisions at every point in pregnancy. We can help these women with our contacts, protests, protection, vehicles and votes.
We owe this to our mothers and our daughters and granddaughters. Do not make their bodies a battlefield where men have all the say. Hopefully we can also engage our sister women's groups. Contact Hillary Handwerger, [email protected], if you are willing to be our representative through Planned Parenthood, attend NARAL Pro-Choice America event, "agitate" for reproductive rights in Ann Arbor or Lansing or on the west side of the state, have additional ideas….
Federal, State, and Local Partners
Follow news on reproductive rights in Michigan and Federally on Updates page.