DAMES is our dinner in appreciation of our members.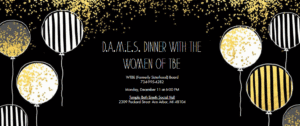 DAMES, our annual dinner for women, is coming up on Monday, December 11, at 6pm.
Free to all WTBE members.
For those of you who have not yet joined, we will take membership payments at the door- or Join Now (see right hand column).
Sponsored by the Women of Temple Beth Emeth, this special occasion marks new friendships, celebrates old ones,
and feeds us fabulous Italian food and wine.
Please RSVP to Ronnie Shapiro by December 5th at 734.995.4282 or ronniershipiro1@gmail.com and we'll see you there!