Don't forget to check our regular calendar for WTBE regular programs, dinners, lunches, fundraisers
2019

Movie Discussion about Green Book

Many of us have probably already seen the movie and many already have it on our schedule so rather than going to see it together—
Lets see what a dinner and discussion group would look like.
Pot Luck dinner at Handwerger's
Tuesday, Jan 15, 2019
6:30-?
Please RSVP so I know how many people to expect.
Contact Hillary at hhandwerger@yahoo.com
Please plan on bringing enough food for 6.
---
Limiting Exposure to Environmental Toxins, Jan 28th Lecture by Cindy Klement, 7:00 pm
Morris Lawrence Building, Washtenaw Community College
More than likely you have noticed the contaminant "PFAS" are being spotlighted in the news, both locally and around the nation — and that's just the beginning! Our bodies are exposed to a number of contaminants beginning in the womb and continuing thereafter on a daily basis creating a "body burden" or, simply put, an accumulated slurry of chemicals stored in our bodies.
Additionally, this short presentation on Visualizing Contaminants is available on YouTube at https://www.youtube.com/watch?v=YNenJ4nhmjU
---
Bizet's "Carmen" | Feb. 2, 2019 12:55- $18/$17 Clémentine Margaine takes on her signature role opposite Roberto Alagna under Louis Langrée. Aleksandra Kurzak also stars.
Everybody should buy tickets on line before the showing, Adults: $ 18, Seniors $ 17.
https://www.fathomevents.com/series/the-met-live-in-hd, then go to" buy ticket, put in zip code for Quality 16 , 48103……
---
SUNDAY, FEB. 24, 3 PM
Comic Opera Guild presents
Mary
KREFT ARTS CENTER
CONCORDIA UNIVERSITY
4090 Geddes Rd., Ann Arbor
General Admission
Adults $18 Seniors $15 Students $10
Order online:
https://a2tix.com/organizations/the-comic-opera-guild
Louis Hirsch was one of the nine founders of ASCAP in 1914. In 1920 he and Otto Harbach wrote the hit show "Mary," from which "Love Nest," his most successful song, later became the Burns and Allen radio and television show theme.
The plot is something of a Cinderella story, very popular in the early '20s. Mary is working as a secretary to the wealthy Mrs. Keene, whose son Jack is the eligible bachelor for all the debutantes in his social set. He is oblivious to this, as he is only interested in building new, prefab houses for the working class. A divorced social climber, Madeline, has her eyes set on him, and he passively accepts that he may marry her. When Mrs. Keene discovers that her wealth has been lost in a bad investment scheme, Jack decides to go off and make his fortune, which no one expects him to do. The only support he gets is from Mary. Complications ensue, but in the end, things somehow work themselves out for our 1920 Cinderella and her prince.
Cilla Tomas has agreed to coordinate this pop-up. RSVP to her, but please buy your own tickets.
We have the opportunity to go to lunch before OR dinner afterwards. Either at Paesano's on Washtenaw or maybe Zaamen's on Plymouth Rd.
Let Cilla know if you are coming and interested in going to either a lunch or dinner with the group. cilla.financialguidance@gmail.com
---
The How and Why– a Discussion and potluck
March 4, 6:30 at Annette Fisch's home
View play at Theater Nova, February 1-24, 2019
Two brilliant female evolutionary biologists, who also happen to be mother and daughter meeting for the first time, share a bold, contrarian approach to their male-dominated field. But the younger challenges the older with a radical new theory—one that could change society's basic understanding of female sexuality. This keenly perceptive play explores the difficult choices of modern American women and generational divides in feminism. "A smart, densely textured work about men and women, love and conflict, genes and destiny."– The New York Times. Directed by David Wolber, The How and the Why features Sayre Fox and Diane Hill.
The theater is at 410 W. Huron, just past the Delonis Center (and it has a large parking lot.) Tickets are $22; some performances are "pay what you wish." Show up early, not all seats are "optimal"
---
2018
Sept 23
Historic Theater Costumes from the Weisfeld Collection- Sunday, Sept 23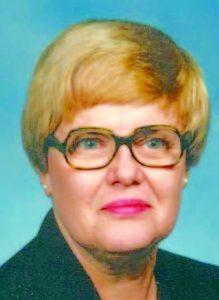 The University of Michigan is having a showing, "Historic Costume Pieces from the Weisfeld Historic Costume Collection". This is an exhibit of costumes, design renderings, and ephemera honoring Professor Emerita Zelma Weisfeld (1931-2018). Zee, who passed away in April, was a long time member of our sisterhood and this should be a nice way to remember her as well as look at her collection of work for the theater.
The exhibit is open from Sept 21 to Oct 5, excluding Saturdays, from noon to 6pm. The exhibit is at the Duderstadt Center Gallery, on North Campus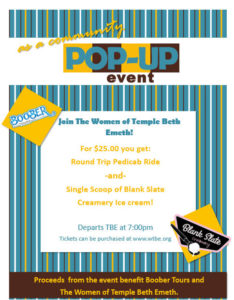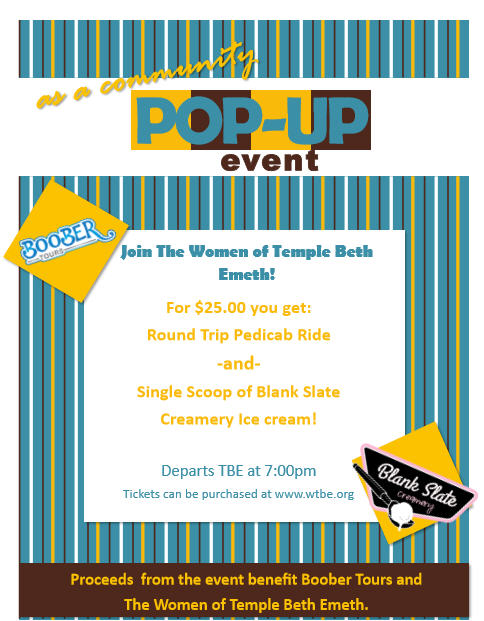 Wednesday 9/26 (rain date 9/27)
Take a PEDICAB ride from TBE to Blank Slate for a tasty treat!
7- 9pm
$25 round trip includes a single scoop of Blank Slates(cup or cone) finest ice cream!
This fundraiser benefits WTBE AND BOOBER TOURS.
Visit www.wtbe.org/ for information or contact Trina @ tfuller817@gmail.com, 734-975-1249
You can reserve your space and pay online at:
https://wtbe.org/whats-happening/fundraising-activities/take-a-pedicab-ride-sept-26/
Check out the story of BOOBER TOURS and their mission to give back to the community.
https://www.michigandaily.com/section/statement/boober-kevin-spangler-groundcover-pedicab-man
LIMIT: 30 people
Oct 4, 8pm
Milvotchkee, Visconsin by Laura Jacomin.

Miriam Weininger suggested and is willing to sponsor this PoP-uP on Thursday, Oct 4 at 8 pm. See Milvotchkee, Visconsin at the Interfaith Center for Spiritual Growth, Airport Blvd, Ann Arbor.
Anyone who is definitely going to go on Oct 4th, let Miriam Weininger know. You should pay for the tickets on line ahead of time at www.kickshawtheatre.org.
The play is wonderful as attested by Patty Nolan's review on Encore Michigan!
Contact Miriam Weininger at miriamrealtor@provide.net.
If you want to pursue a meal together before the play, discuss among yourselves and Miriam.
Oct 6
Aida | IN THEATERS OCT 6, 12:55- $18
see Metropolitan Opera Live, below
Oct 23
Samson et Dalila | IN THEATERS OCT 20, 12:55
see Metropolitan Opera Live, below
Oct 23
The Toast of Jewish Broadway, 1923
Tuesday, Oct 23, at the Britton Recital Hall, 7:30, North Campus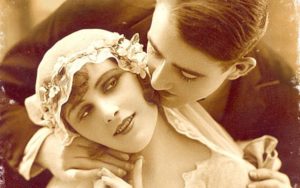 Dr.Michael Ochs, musicologist and retired music librarian from Harvard, reintroduces the genre of Yiddush operetta to us. Di goldene kale (The Golden Bride) incorporates elements of klezmer, Jewish cantorial music, Eastern European folk music, ragtime and jazz. It was wildly popular in NYC when it premiered in 1923, and reached national and international audiences, touring until 1940.
This presentation will include recorded exerpts from historic and modern productions, as well as live perfomances of signature numbers by SMTD (School of Music, Theater, and Dance).
The performance is at 7:30. Those who want, can meet at Ayse's Turkish Café at 5:45.
Paid parking is available on North campus, behind the Britton Recital Hall.
Contact Hillary Handwerger, hillaryh@ix.netcom.com to rsvp for dinner so we have a table large enough.
Passion & Perseverance: A Gershwin Musical Revue
Nov 18, Conor O'Neill's Celtic Room
318 South Main, Ann Arbor
Doors to the Celtic Room will open at 6:30pm. The concert will begin at 7:30pm .
This one-night-only performance will warm your heart and have you tapping your toes to the delightful tunes of George & Ira Gershwin!
Want to see the show with a number of other people you know? This is your chance. Miriam Weininger is coordinating this Pop-Up for us. If you want to go with us, contact Miriam at miriamrealtor@provide.net.
Tickets for the concert are $50.
You are encouraged you to come early and dine in the restaurant. Again, Miriam can help coordinate.
Purchase tickets at https://www.showclix.com/event/gershwin
The Metropolitan Opera Live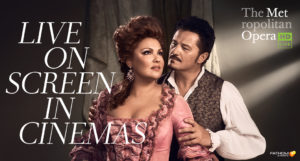 If you are interested, Cilia Tomas, cilla.financialguidance@gmail.com. is coordinating these shows. Great live opera in HD at Quality 16.
The Metropolitan Opera's Emmy and Peabody Award-winning Live in HD series returns to the big screen with the 2018-19 season. All live events take place on Saturdays. Don't miss the chance to experience incomparable performances live from the stage of the Metropolitan Opera, as well as special interviews and behind-the-scenes features exclusive to the Live in HD series, all from the comfort of your neighborhood cinema!
Aida | IN THEATERS OCT 6, 12:55- $18/$17
Soprano Anna Netrebko sings her first Met Aida, with mezzo-soprano Anita Rachvelishvili as her formidable rival Amneris. Aleksandrs Antonenko is the warrior Radamès, and Nicola Luisotti takes the podium for the Met's monumental production.
Samson et Dalila | IN THEATERS OCT 20, 12:55- $18/$17
Saint-Saëns's biblical epic stars Elīna Garanča and Roberto Alagna in the title roles; the pair was last seen together by Live in HD audiences in the acclaimed 2010 transmission of Bizet's Carmen.
Verdi's "La Traviata" | December 15, 12:55- $18/$17
Yannick Nézet-Séguin leads Diana Damrau, Juan Diego Flórez, and Quinn Kelsey in a new production by Michael Mayer.
Bizet's "Carmen" | Feb. 2, 2019 12:55- $18/$17 Clémentine Margaine takes on her signature role opposite Roberto Alagna under Louis Langrée. Aleksandra Kurzak also stars.
Everybody should buy tickets on line before the showing, Adults: $ 18, Seniors $ 17.
https://www.fathomevents.com/series/the-met-live-in-hd, then go to" buy ticket, put in zip code for Quality 16 , 48103……
Cilla suggests that we meet 1 1/2 hours before the performance at the "Coffee House Creamery, 3780 Jackson Rd. near Quality 16 at 11.30 am for Coffee and Sandwiches
Contact Cilla at cilla.financialguidance@gmail.com after you have bought ticket ! Let Cilia know if you will be there for early lunch also.
---
Wednesday, Dec 26 at 4:00
at the State Theater.
Dinner and discussion afterwards at Ama Bistro, 215 S State St
Contact Hillary at hhandwerger@yahoo.com if you are interested in coming to dinner with us.
Purchase tickets online at the State theater to reserve a seat.