Don't forget to check our regular calendar for WTBE regular programs, dinners, lunches, fundraisers
2020
---
---
The Metropolitan Opera Live
Live performances on Saturdays and Encores the following Wednesday afternoon and evening.  Everybody should buy tickets on line before the showing, Adults: $ 18, Seniors $ 17.
https://www.fathomevents.com/series/the-met-live-in-hd, then go to" buy ticket, put in zip code for Quality 16 , 48103……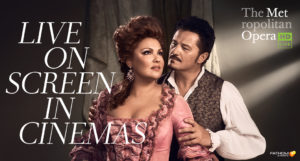 If you are interested, Cilia Tomas, cilla.financialguidance@gmail.com. is coordinating these shows. Great live opera in HD at Quality 16.
The Metropolitan Opera's Emmy and Peabody Award-winning Live in HD series returns to the big screen with the 2019-20 season. All live events take place on Saturdays. Don't miss the chance to experience incomparable performances live from the stage of the Metropolitan Opera, as well as special interviews and behind-the-scenes features exclusive to the Live in HD series, all from the comfort of your neighborhood cinema!
Encore performances are usually on Wednesdays after the Live performance but the website hasn't put up the schedule for 2019/20.
Sat., April 11, 2020,  12,55 pm, Tosca by Puccini
Everybody should buy tickets on line before the showing, Adults: $ 18, Seniors $ 17.
https://www.fathomevents.com/series/the-met-live-in-hd, then go to" buy ticket, put in zip code for Quality 16 , 48103……
Cilla suggests that we meet 1 1/2 hours before the performance at the "Coffee House Creamery, 3780 Jackson Rd. near Quality 16 at 11.30 am for Coffee and Sandwiches
Contact Cilla at cilla.financialguidance@gmail.com after you have bought ticket ! Let Cilia know if you will be there for early lunch also.