THE 2018 BULB SALE starts mid April, and will end June 30, 2019
You can select from over 150 choices of bulbs to beautify your yard and home– next Spring and in your home all year long. Check out the Catalog listing above for the pulldown with the specific groupings of bulbs: Tulips, Iris, Daffodils and Narcissus, Hyacinths, and Miscellaneous, as well as our selection of indoor bulbs. Or you can check to the right to select based on season, color, and specific type.
This morning, my husband was listening to the radio and someone called in and asked about bulbs that they had forgotten to plant last fall. The gentleman on the radio said that the bulbs need 1000 hours of cold to sprout. He suggested putting them in the refrigerator for the next six weeks. Then he says you can put them out in your garden. Won't your neighbors be surprised to see tulips growing in your yard in JUNE!!!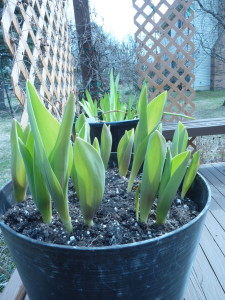 Or you could do as I do–not because I forgot, but because in NE Ann Arbor, the deer eat the tulip bulbs. So I plant them in the fall in containers which I leave in the garage. Something triggers them to start growing in the Marhttps://wtbe.org/wp-admin/post.php?post=598&action=edit#ch timeframe. I just brought these outside on my deck the other day and hope to see blooms within the month!
But I do have a lot of things sprouting this year; and some color already. Snowdrops (which unfortunately we are not selling this year), scilia– both Siberian (blue) and white, crocus, daffodils starting, and lots more.
Welcome, Spring!
Here are some pictures of the amaryllis I have purchased over the years and are still keeping us delightful company during these winter months. These pictures were all taken in December and January this year.